eComStation 2.0 Review
Author: Greggory Shaw
eComStation 2.0 Review
eComStation 2.0 gets the basics right, but here's what you need to know about the new OS.
by Greggory Shaw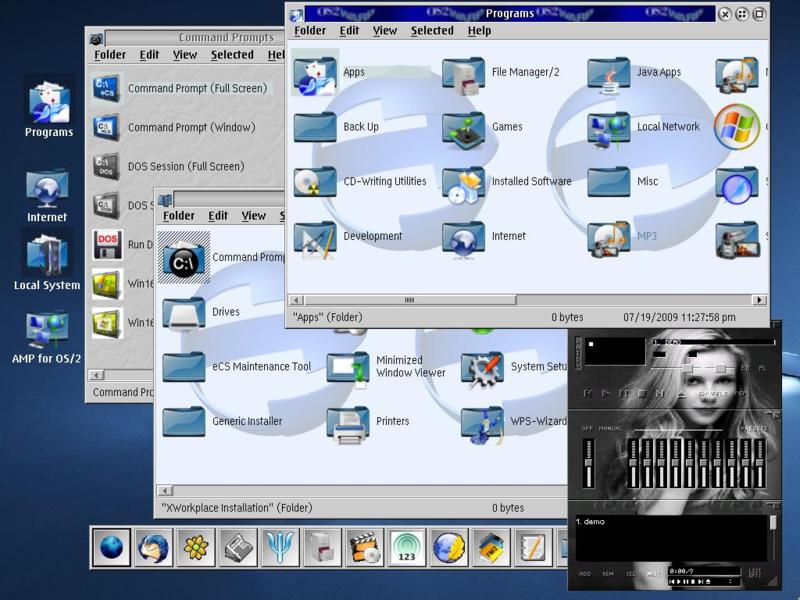 Introduction
It has been over 5 years since the last release of eComStation the successor to IBM's OS/2 Warp. And to say it one more time, OS/2 is still not dead it was just rebrand and is now being sold under the name of eComstation by SSI. For those of you that do not know about the history of IBM's OS/2 Warp it started out as an joint venture between IBM and Microsoft. However, Microsoft pulled out of the agreement and continued on their own project that eventuallly became the Windows operating system. The full history of OS/2 can be found on the Net, so I will not repeat it again here.
There are a lot of new and welcome features added to eComstation 2.0, but after 5 years between releases are a couple featues missing that should be. The main two are network connectivity and printer support. Both are up and coming, and due with the release of eCs 2.1 by the way of Samba and eCup from the Linux world.
New Features for eCS 2.0
Here is the short list of new features in eComstaton 2.0:
Preboot menu changes
The Preboot menu has been changed to accomodate an easier selection of the target hardware and preset some configuration options automatically.
The following options are available:
Legacy hardware
Modern hardware, safe mode
Modern hardware, ACPI
Virtual Machine
Please see the README document for more details.

Bootable JFS
This release of eComStation contains the option to install the operating system on a JFS volume. The advantage of doing this is that the amount of diskcache is only limited by system memory (typically 10% of available memory is assigned) This increased cache size gives a huge gain in overall system performance.

HDA Audio support
The support for HDA audio controllers on new mainboards is greatly improved since the previous release candidate of eComStation 2.0. It is now detected and installed on most supported systems.

Panorama VESA video driver installation
This version of eComStation allows the installation of the Panorama VESA videodriver, to enable accelerated display on video chipsets currently unsupported by Scitech SNAP.

Netware installation
This version of eComStation allows the installation of the Netware client software and utilities straight from the regular installer. It is integrated in the network pages and makes it easier to setup eComStation as a workstation in a Netware environment.

Disk Resizer GUI
This beta has a custom DFSee engine that enables reliable RESIZING of FAT32 and NTFS filesystems to allow shrinking an existing Windows installation to make room for eComStation on the same system.

The GUI to this tool has been updated and is now using a graphical interface. To invoke it, please select 'Paritition Resizing Tool' from the Installation Volume Manager which can be called during installation.

GenMac support
This package provides generic driver support for several network interface cards under OS/2 and eComStation. Moreover, Genmac is enabled to support WPA encryption with the Wireless LAN Monitor 3.x or better.
Genmac and the Wireless LAN monitor will be installed when the appropriate hardware is detected by the installer. If it is not detected, you can manually select the driver in the network installation dialog.

ACPI 3.17
ACPI support has been updated to the latest available version (3.17) which results in varying successrate. For example, AMD Opteron multicore CPU is now reported to be supported.
Installation of ACPI has been improved by the use of the ACPI Wizard, which tries to determine system configuration and set parameters accordingly. You can manually change them of course. It will be run after regular installation has completed.

multicore CPU support
This beta supports the installation of eComStation on a MultiCore CPU computer. This includes Intel Core Duo, Core2 Duo and AMD 64 X2.
To enable it, you can do so in the ACPI Wizard that is launched from the Post Installation tasks at the end of the installation. Alternatively you can start the ACPI Wizard at any time from the install/remove folder in the Local System folder on the desktop.

eComStation Virtual File System (Samba client support)
Samba is a SMB/CIFS protocols file and print sharing server/client set originally made for UNIX world to cooperate with corresponding Windows and OS/2 servers or clients. eComStation has a native implementation of SMB/CIFS server/client set - IBM LAN Manager and IBM Peer. These products have not been recently updated and may have some compatibility issues with modern Windows SMB/CIFS implementations.
Serenity Systems International has reached an agreement with Blueprint Software Works for the inclusion of the 'eComStation Virtual File System' driver which provides support for Samba Client.

EVFS GUI
There now is a GUI that will make it easier to configure network access using the Samba protocol. There is one big limitation though, the tool cannot determine if a network connection was properly created - so it will not provide sensible feedback on that, instead it will always create a mountpoint which may be empty if the actual connection fails. The object for this tool is placed in the "Local Network" folder and is called "Virtual Filesystem for SMB".


Hardware
I have two old computers a Compaq Presario 4100NX and a laptop Dell Latitude D810, and a newer Dell 531 that have no problems with the installation of eComstation 2.0. However, hardware is going to be hit or miss with your favorite window devices. Especially the onboard HDA sound and more importantly the onboard network controllers. If all else fails a sound card, nic, and video card can be found on eBay for under $50 that work with eCS.

The bottom line is that you need to check some of the eComstation hardware compatiblity site's before you attempt to install eCS or even consider purchasing eComstation. And if you can not install a new network card or video card, then you should probably stay in the Windows world.

One more thing to know about multi-processors CPUs with eCS. Depending on your hardware setup your system may not be stable with SMP enabled, so be prepared for this.